Pest Control Services
One of the most stressful experiences that you can go through as a homeowner is an infestation. And while it's never a good time, when you've got a reliable pest control company on your side, the problem can be resolved quickly. So when bugs get into your home, look to the local experts at Bee Green Pest Solutions to get rid of: 
Ants
Centipedes
Millipedes
Earwigs
Fleas and Ticks
Flies
Roaches
Silverfish
Spiders
And more!
Family-Friendly Services for Your Peace of Mind
For as stressful as an infestation can be, sometimes, getting professional pest control can be almost as bad. And if the company that you choose uses unsafe products and less-than-ideal techniques, there are plenty of reasons to worry. Here at Bee Green, we value your safety and peace of mind and use exclusively family-friendly treatments and organic products. You and your loved ones deserve both relief from bugs and to feel safe in your own home, so choose the team that can deliver both every time!   
Satisfaction Guaranteed!
Our innovative pest control service is guaranteed to get rid of your insect problems, while our protection services make sure your home is always protected.
Image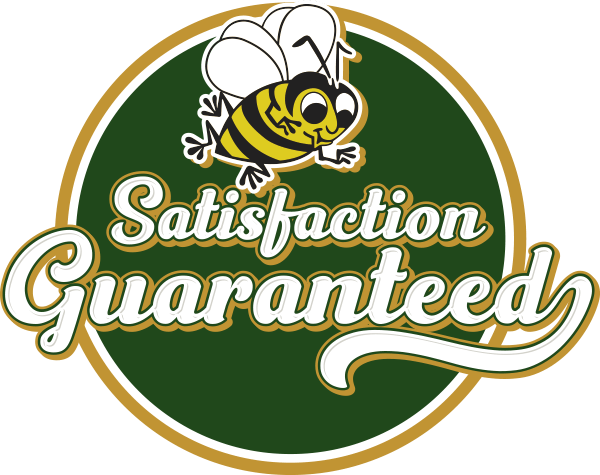 Get Fast Relief with our Same-Day Service
Having a house full of bugs is no fun, to say the very least. So don't wait to kick them out! We're guessing that you'd rather get rid of pests as quickly as possible, and with us on your side, that's exactly what you'll be able to do! We're proud to offer our customers same-day service when you call before noon to help give you back a comfortable, relaxing, and pest-free home. 
Our pest control service includes:
A free home inspection from a local exterminator.
Interior and exterior services for maximum results. 
Elimination of entry points to prevent future infestations.
Combined bait and spray treatments that resolve any active infestations quickly.
Included cobweb and wasp nest removal if necessary. 
Available one-time or recurring service, depending on your needs.
Zero contracts.
And much more! 
Ant Control in Savannah
Our professional technicians at Bee Green Pest Solutions are able to identify which species of ant or ants are invading your property. Although most ants are considered just a nuisance, some species are aggressive and can bite or sting when they feel threatened. Others still can contaminate the food in your pantry that is intended for your family, not ants.
If you suspect ants are living around your property, it is necessary to schedule ant control services immediately. Because ants are small and often live in your lawn or unseen areas, regular treatments and follow-up visits are required. Like cockroaches, ants can transmit diseases after walking through feces and other contaminants. In large numbers, ants can damage your garden, eat through insulation and fabric, and even kill smaller animals.
There are many different types of ants found throughout the Savannah area, such as:
Fire ants
Carpenter ants
Pharaoh ants
Rover ants
Acrobat ants
Crazy ants
Argentine ants
Spider Control in Savannah
Some spiders are beneficial around your garden as they eat mosquitoes and other annoying insects. However, there are some spiders found locally in Savannah that are particularly dangerous. Bee Green Pest Solutions offers professional spider control and spider treatments that are necessary to eradicate them from your home or business.
Our hometown spider exterminators at Bee Green can easily identify the difference between nonvenomous and venomous spiders. We readily remove all venomous spiders from your property but advise leaving nonvenomous spiders outside of your home to carry on their hard work, such as: 
Long-bodied cellar spiders
House spiders 
Jumping spiders
Cockroach Control in Savannah
The quicker you take action against invading cockroaches, the sooner they can be eradicated before large populations invade your home or property. Unfortunately, the glimpse of just one roach probably means that a large family of the species is living inside or close to your property. Cockroaches eat our food, destroy our wallpaper and books, chew our electronics, and spread bacteria and infection to humans. 
BeeGreen Pest Solutions will flush cockroaches out from the cracks and crevices they love to hide in and bring them out into the open, where a variety of methods can be used for effective cockroach control. After the cockroach removal, our professional experts will provide regular treatment to prevent the return of future cockroach infestations. If you see just one cockroach in your Savannah home or business, call Bee Green Pest Solutions or fill out a contact form right away, as there are sure to be many more lurking behind the scenes.
Available Commercial Service
Unfortunately, bugs don't just target our homes. They're just as good at getting into our places of business and can cause all sorts of problems once they do. Instead of asking your employees to work alongside bugs or giving your customers a reason to take their business elsewhere, sign up for our commercial pest control service! We'll give your workplace the same level of care that you expect for your home, delivering a clean and pest-free office that you can count on to stay that way.
Your Satisfaction is Fully Guaranteed!
When you sign up for professional pest control, you should be able to feel confident that you'll get the lasting relief that you and your family deserve. Moreover, it's reasonable for you to expect a company to stand behind its work. At Bee Green, that's exactly what we do. We back each service we provide with a full and binding satisfaction guarantee. There's no need to gamble on a company that may or may not get the job done. Instead, get started with our service today!
Image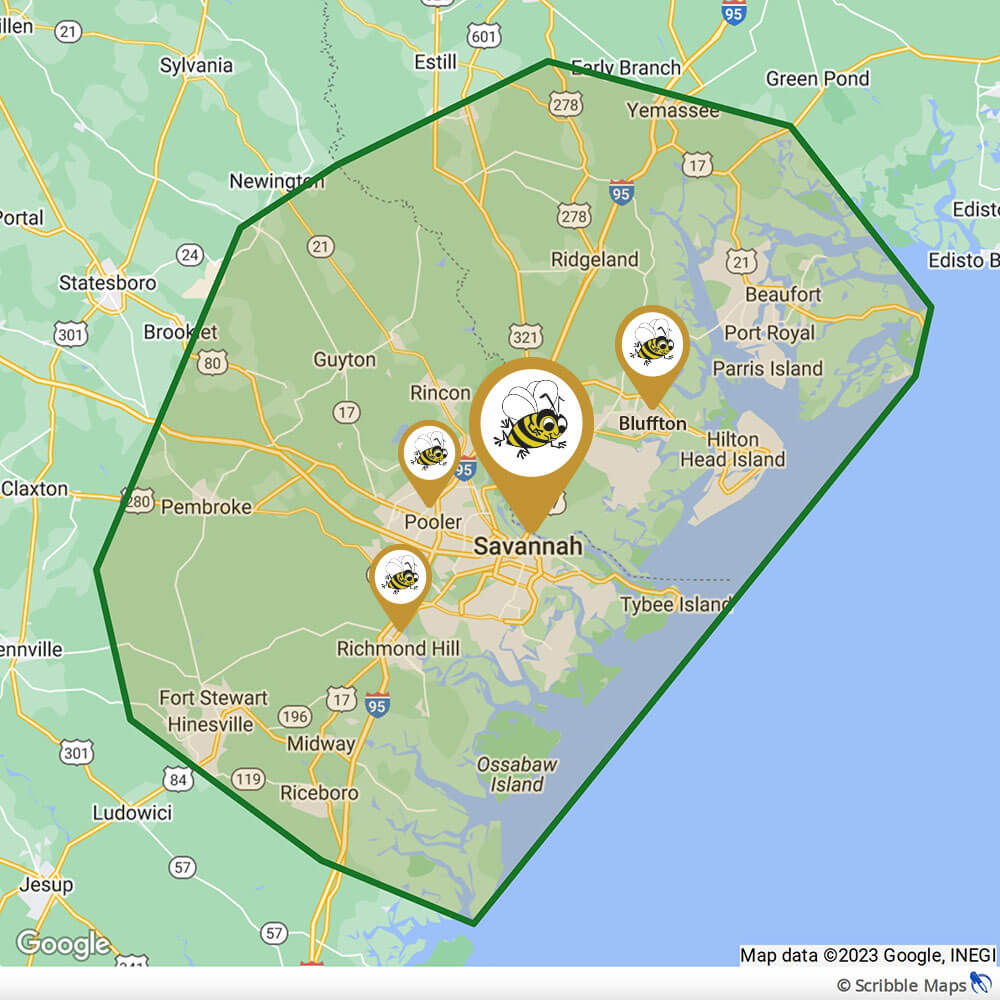 Areas We Service Around Savannah
Sunny, warm, and full of history, the Savannah area isn't just where we work, but it's our home as well. We're proud to serve our local communities and keep the area's homes free from pests. So the next time bugs get indoors, let the locals get rid of them!