Image
Get a Free Quote on Same-Day Pest Control
Pest Control in Bluffton, SC
There isn't much that will make you feel uncomfortable in your home quite like a pest infestation. Unfortunately, nuisance bugs excel at getting indoors when you least expect it, and once an infestation starts, it can be difficult to resolve on your own. With the experts at Bee Green Pest Solutions on your side, however, you can expect protection from:  
Ants

Earwigs

Flies

Silverfish

Centipedes

Millipedes

Fleas and ticks

Roaches
Spiders
And more!
Give Bugs the Boot Today
The only thing worse than a pest infestation is one that happens out of nowhere. But once we're on the job, that won't be an issue. That's because we offer our customers available same-day service when you call before 12 PM! Don't let bugs stay comfortable any longer, and let us get to work for you today.
Image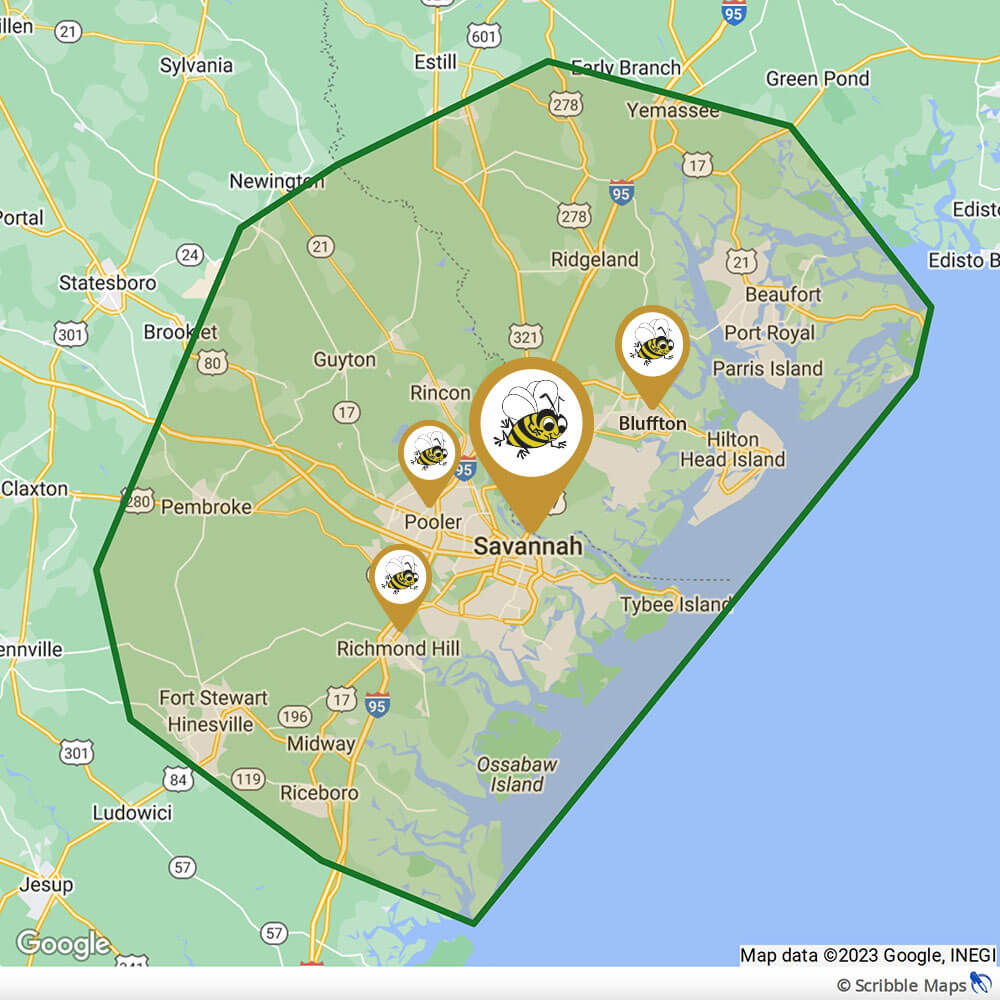 Organic and Family-Friendly Pest Treatments
Having nuisance bugs in your home is stressful enough already. So why add more stress to the situation by choosing a pest control company that uses unsafe products? Instead, go with the local pros who offer organic and family-friendly products. On top of always putting your safety and peace of mind first, you can expect the following when you work with us: 
A thorough in-home inspection

from a highly-trained pest exterminator.

Interior and exterior treatments

to resolve infestations both in and around your home. 

Elimination of all pest entry points, 

which stops them from getting indoors in the first place.

Combined bait and spray treatments

for fast removal of all active pests in your home.

Cobweb and wasp nest removal

wherever we find them. 

Available one-time or recurring service

, depending on the severity of your infestation.

Friendly service from a local pest control company. 

And a whole lot more!

 
Termite Exterminator in Bluffton, SC
Destructive, common, and always hungry, termites represent a very real threat to your home. Nationwide, they're responsible for more than $5 billion worth of damage each year, making them one of the most expensive pests out there. Here at Bee Green Pest Solutions, though, we protect both your home and wallet with our termite control in Bluffton. With us in your corner, there's no need to worry about termites eating away at your home's foundation. Instead, sign up today to receive:  
A thorough inspection of your home

to determine the extent of termite activity.

Personalized control and prevention plans

that we'll design around your needs. 

Liquid, chemical spray, and bait station treatments

that will eliminate the entire colony.

Reliable and high-quality products

like Termidor Advance Bait Stations. 

And more!
Mosquito Exterminator in Bluffton, SC
Here on the South Carolina coast, mosquitoes are pretty much everywhere. Every spring and summer, billions of them descend upon the area, biting beachgoers, residents, and tourists alike. And while they're definitely annoying, mosquitoes can also expose your loved ones to diseases such as Malaria and Yellow Fever. But if you've got high-quality mosquito control in Bluffton, you can expect your yard to stay safe and comfortable all year! Our services include:
Effective and family-friendly mist treatments.

Same-day and next-day services.

Recurring services that protect you all season.

Service from friendly, local exterminators!
Your Satisfaction is Guaranteed! 
You deserve to feel confident in the mosquito control company that you hire to work in or around your home. At Bee Green Pest Solutions, your trust and peace of mind matter to us, which is why we back every service we provide with a full satisfaction guarantee! Don't roll the dice on a company that you can't count on, and go with the sure thing instead.