Pest Control in Hilton Head
Hilton Head may be beautiful and peaceful, but sadly, that doesn't mean its homes aren't vulnerable to pests. They're just as good at sneaking indoors here as they are anywhere, making reliable pest control service a must-have. But with help from Bee Green Pest Solutions, you can expect year-round protection from:
Ants

Centipedes and Millipedes 

Earwigs

Fleas and Ticks

Flies

Roaches

Silverfish

Spiders

And many, many more!
Family-Friendly Pest Treatments
Pest control in Hilton Head Island that exposes you to harmful chemicals and unsafe techniques simply isn't worth your time or money. But with us on your side, you won't have to worry. We take a responsible approach in and around your home and use only safe, organic, and family-friendly products! Don't let pest control put your family in harm's way, and choose a team that puts your safety first.
Image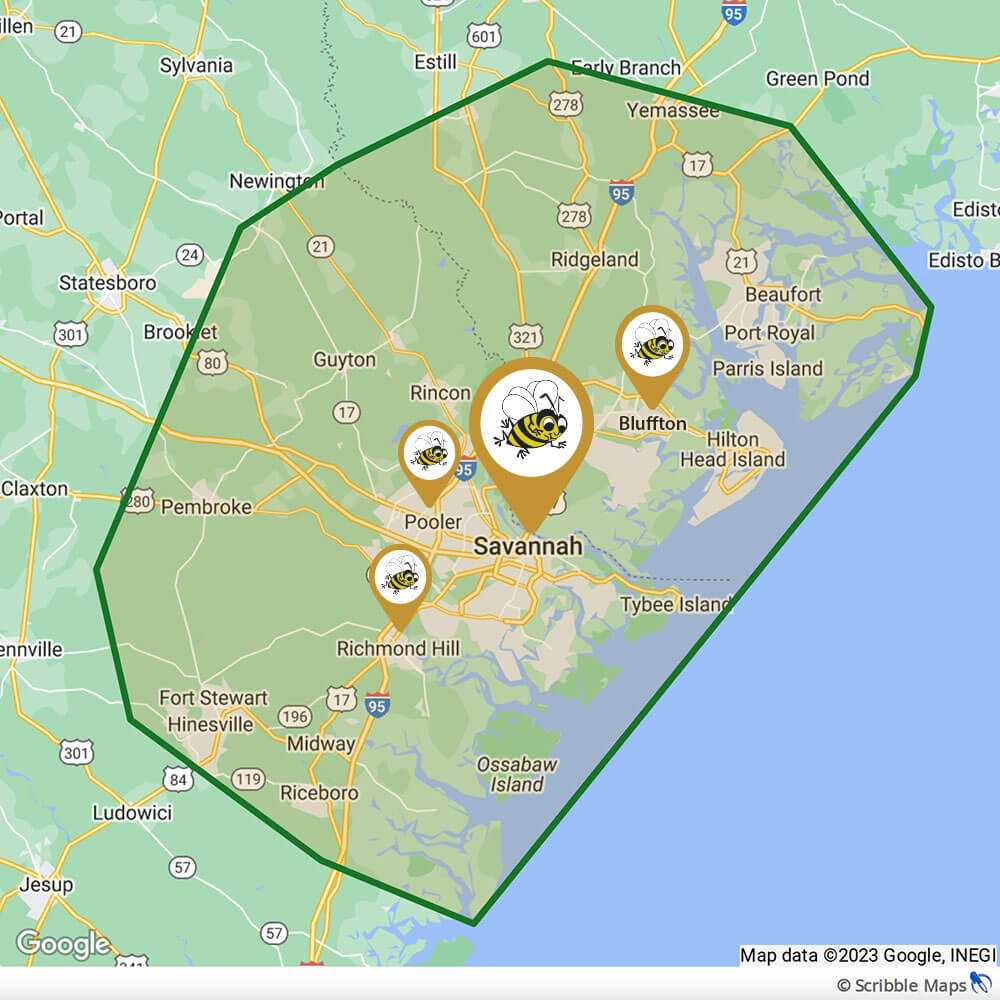 Contract-Free Pest Control
Across the pest control industry, you'll find no shortage of companies who want to lock you into a long-term deal that benefits them more than anyone else. Here at Bee Green, though, we do things differently and offer our customers contact-free service. The way we see it, the quality of our work should be what keeps our clients coming back, not onerous deals that prevent them from making adjustments when they need to. We're confident that you'll be a customer for life once you see what we can do, so sign up today to receive:
A FREE pest inspection

from a qualified, local exterminator.

Interior and exterior services

for comprehensive relief from any pets on your property. 

Pest exclusion treatments

which prevent future infestations from happening.

Combined bait and spray applications

that will resolve a wide variety of infestations.

Included cobweb and wasp nest removal

with every plan.

Available one-time or recurring services

.

Same-day appointments

when you call before noon. 

And so much more!
Termite Control in Hilton Head, SC
Few pests on Earth can reduce a gorgeous island house to a pile of sticks faster than termites. They actually cause more than $5 billion worth of home damage each year. Given the severity of and expenses related to a termite infestation, keeping them out of your home all year is critical. That's where our termite control in Hilton Head can help you out! We offer the sort of fast relief and long-lasting protection that you need, so sign up for our service today to receive:
A comprehensive home inspection

to evaluate the extent of termite activity damage.

Flexible and custom-designed termite control plans

that adjust to your needs.

Separate or combined liquid, spray, and bait treatments

that eliminate active termites in your home.

Industry-best termite control products

like the Termidor Advance Bait Stations.

And a whole lot more!
Mosquito Control in Hilton Head, SC
The South Carolina Low Country is famous for many reasons, including the local mosquito population. Given the area's proximity to both marsh and swampland, as well as the humid conditions, it's not surprising to encounter mosquitoes throughout much of the year. Even though they are common, they should still be taken seriously as they can spread dangerous diseases. But with Bee Green Pest Solutions on your side, you'll get: 
A free inspection of your property to identify problem areas and breeding zones.
Mosquito spray treatments that get rid of active infestations and prevent future ones.
Service from local mosquito exterminators that are familiar with the area. 
Same-day service for fast relief if you call before noon!
Our mosquito control in Hilton Head uses family-friendly mist treatments applied by trained and experienced experts with the skills to give you the relief that you and your loved ones deserve. Even in the face of a runaway mosquito population, we can keep your yard safe and comfortable all spring and summer long!
Your Satisfaction is Totally Guaranteed 
Here at Bee Green Pest Solutions, your confidence matters to us. You deserve to feel good about the pest control company that you hire to get rid of bugs in your home, which is why we back every single one of our services with a full satisfaction guarantee! Our job isn't done until you're happy, so don't hesitate to get in touch today.
Not in Hilton Head? Our technicians offer pest control services throughout the surrounding area. Call us today!