Bed Bug Treatment in Savannah
At the end of a long day, all you want to do is lie down in a comfortable bed and get a good night's rest. And while that should be the least stressful part of your day, during a bed bug infestation, simply going to sleep is a source of anxiety. Bed bugs are notoriously stubborn and spread fast, so it's important to hire a professional bed bug exterminator at the first sign of these pests. Luckily for you, Bee Green offers the best bed bug treatment in Savannah!
Our bed bug control service includes:  
An inspection

from a local exterminator to help identify all affected rooms in your home.

A personalized treatment and prevention plan

that we build around your specific needs.

Effective spray treatments

with a follow-up visit within 14 days.

Guaranteed protection from recurring infestations

for at least 90 days. 

Helpful advice

on how to prevent a future infestation from occurring. 

And lots more!

 
Same-Day Bed Bug Treatments
Anyone who's ever suffered through a bed bug infestation knows that getting rid of them quickly is of the utmost importance. No one wants to share their bed with bugs or spend a fortune on hotels while they wait for a pest control company to show up. That's why we're proud to offer our customers same-day service when you call before noon! You and your loved ones deserve a comfortable, relaxing, and bed-bug-free home, so choose the team that can give you that today. 
Call Bee Green today if you're noticing:  
An off-putting odor, similar to mildew or wet linen, in any of your home's rooms. 
Small rust-colored stains on bedding or furniture upholstery.
Itchy red bites on your skin where it comes into contact with affected surfaces. 
Shed bed bug skins or discarded eggshells. 
Live adult specimens.
Book a Bed Bug Inspection Today!
Contract-Free Services
Here at Bee Green Pest Solutions, we value our customers' flexibility. Instead of locking you into a long-term contract that benefits us more than you, we offer contract-free services which allow you to pay as you go and stop whenever you want to. After all, we're confident that you'll be thrilled with our work and that you'll come back to us for all of your pest control needs!
Family-Friendly Products and Techniques
Professional bed bug control has the reputation of being difficult, invasive, and even dangerous. But when you choose Bee Green Pest Solutions to get rid of bed bugs in your home, you can rest assured that you're in good hands. That's because we prioritize both your safety and peace of mind with our family-friendly products and methods! Don't put your loved ones in harm's way, and get the kind of service you deserve.
Save $100 On Bed Bug Treatment
Count on our Satisfaction Guarantee 
No one should have to put up with bed bugs in their home, but when they do get inside, you need a dependable pest control company to send them packing. In addition to our reliable and high-quality service, we back our bed bug control with a full satisfaction guarantee! So when you choose to work with us, you can feel confident that we'll do the job right, no matter what. Call our bed bug exterminators in Savannah today. 
Image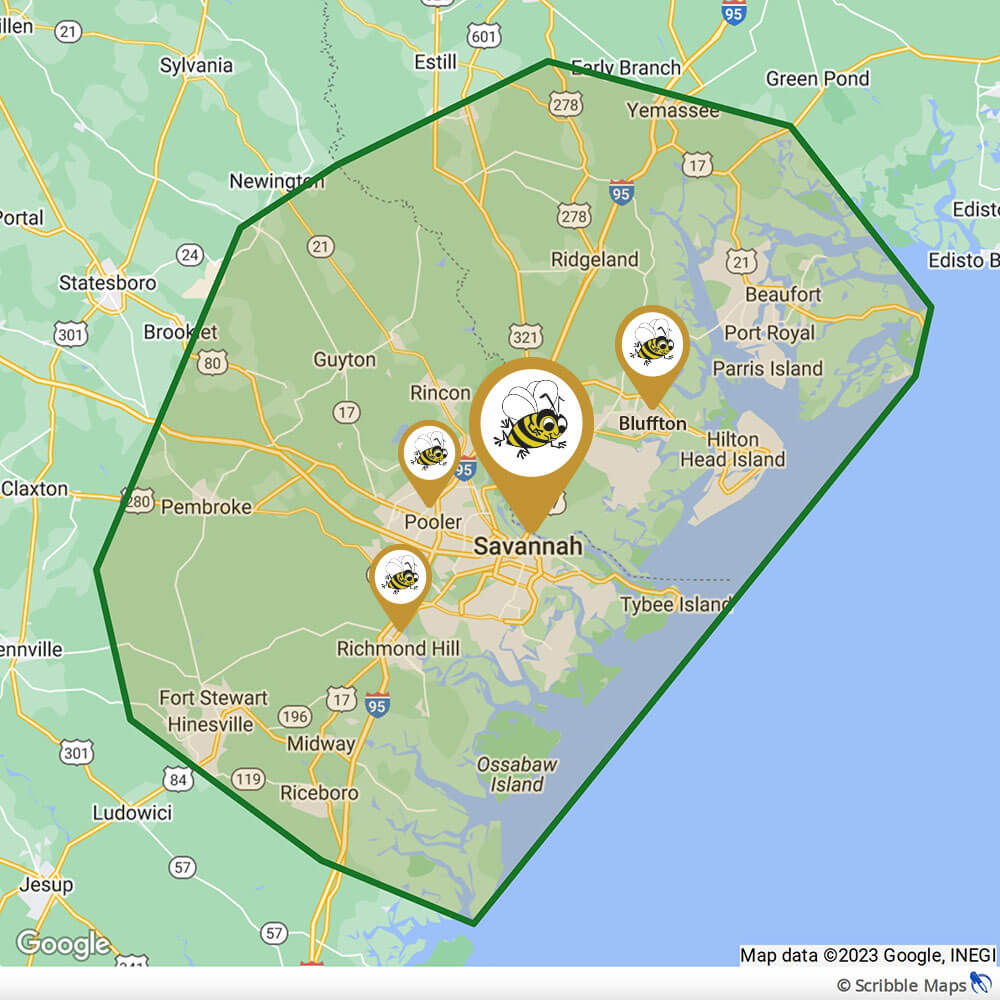 Areas We Service Around Savannah
Sunny, warm, and full of history, the Savannah area isn't just where we work, but it's our home as well. We're proud to serve our local communities and keep the area's homes free from pests. So the next time bugs get indoors, let the locals get rid of them!