Pest Control in Hinesville, GA
Your home is where you should feel the most relaxed, but during a pest infestation, it can be a source of stress and anxiety. That's where an experienced and reliable pest control company can make a difference. With the local experts at Bee Green Pest Solutions and our pest control in Hinesville on your side, you'll get lasting relief from:   
Ants
Centipedes
Millipedes
Earwigs
Fleas
Ticks
Flies
Roaches
Silverfish
Spiders
Rats
Mice
And more!
Count on our Full Satisfaction Guarantee 
Confidence is everything when it comes to picking the right pest control company for you. You deserve to feel like you're in good hands, that your concerns are being addressed, and that the job is being done to your standards. That's why we back up our pest control services with a full and binding satisfaction guarantee! The next time bugs get into your home, choose a company that you can trust to get rid of them for good.
Image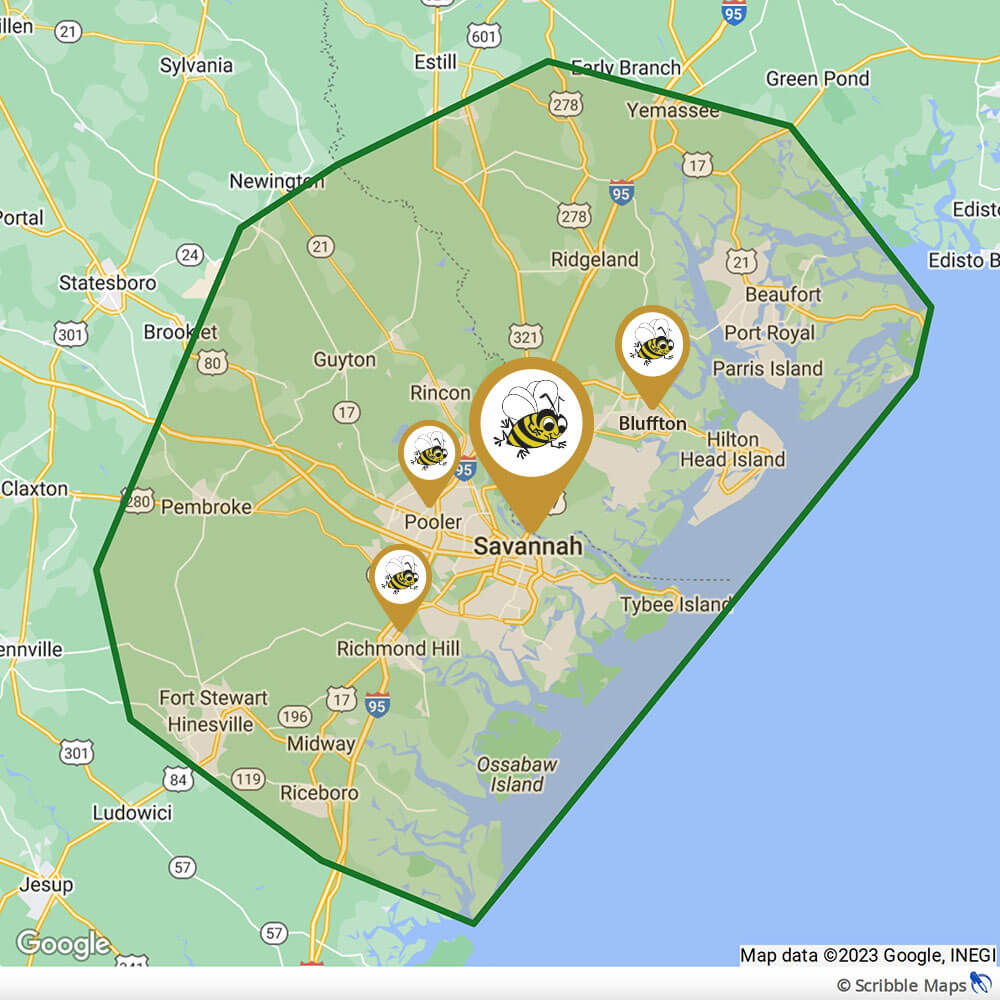 Get Fast Relief with our Same-Day Pest Control
When bugs get into your home, we understand that you want them gone as quickly as possible. We'd feel the same way if unwanted pests invaded any of our homes! That's why we're proud to offer our customers available same-day service that helps resolve even severe infestations quickly. Just give us a call before noon! On top of that, you can expect a whole host of helpful in-home services when you work with us, including: 
A free home inspection

to help us determine your exact needs.

Interior and exterior services

which eliminate active pests in and around your home. 

Removal of pest entry points

in order to prevent future infestations from happening.

Combined bait and spray treatments

that work together to provide fast results.

Included cobweb and wasp nest removal

if you need them. 

Available one-time or recurring service

, depending on both your needs and preferences.

Our full satisfaction guarantee.

 

And so much more!

 
Schedule Your FREE Inspection Today
Protect Your Loved Ones with our Family-Friendly Treatments
Hiring a pest control company to get rid of nuisance bugs in your home should provide relief, not additional stress. But when your chosen company uses unsafe products and methods in your home, the solution may well be worse than the problem itself. That's why we offer organic and family-friendly pest control options and techniques. Your safety and peace of mind matter to us, so count on us to get the job done right!
Termite Exterminator in Hinesville, GA
Termites are destructive, expensive, and, troublingly, very common in our area. Nationwide, termites account for more than $5 billion worth of damage each year! Needless to say, then, it's incredibly important to keep these bugs away from your property. That's exactly what our termite control in Hinesville is designed to do. Once we're on the job, even the hungriest termites don't stand a chance, so get started today, and you'll receive:
A comprehensive termite inspection

to assess the progress of their infestation and any related damage to your home.

Customized termite control and prevention plans,

which we'll adapt to your unique circumstances. 

Available liquid, chemical spray, or bait station treatments

that ensure total colony elimination.

Industry-leading products

like the Termidor Advance Bait Stations. 

A termite-free home

that you can count on.

And a whole lot more!
Mosquito Exterminator in Hinesville, GA
It takes all of about five minutes of being in Hinesville during the spring or summer to learn just how bad mosquitoes can get down here. While everyone knows that they're annoying and can make going outside an unpleasant prospect, fewer people understand that mosquitoes are actually quite dangerous! This is due to mosquitoes' ability to spread diseases like:
Malaria

Zika

Yellow Fever

Dengue Fever

West Nile Virus

Eastern Equine Encephalitis 

Chikungunya Virus

And many more! 
Complete with regular mist treatments that keep your yard safe all season and high-quality, eco-friendly products, our mosquito control in Hinesville is exactly what you need to stay safe this spring and summer. Don't let these buzzing, biting, bloodsuckers keep you indoors, and instead, get rid of them today with help from the local mosquito treatment experts! 
Contract-Free Services 
Here at Bee Green, we aim to put our customers first however we can. We don't think that you should be locked into a long-term pest control contract that keeps you from making the adjustments that life so often demands. Instead, we offer contract-free service, which allows you to pivot at a moment's notice, pay as you go, and stop whenever you need to. We prefer to let our results be what keeps our customers coming back anyway, so schedule a free inspection of your home or yard to discover what makes us stand out!
Not in Hinesville? We offer pest services in Richmond Hill and the surrounding area.