Image
Get Same-Day Pest Control in Richmond Hill
Pest Control in Richmond Hill, GA
Sadly, even the cleanest of homes are vulnerable to pests. However, there's no need to despair when you have a dependable pest control company on your side! Here at Bee Green Pest Solutions, we offer family-friendly treatments that keep the bugs out all year long. Our local exterminators in Richmond Hill will get rid of:
Ants

Centipedes and Millipedes 

Earwigs

Fleas and Ticks

Flies

Roaches

Silverfish

Spiders

And many more!
Kick Bugs out of Your Home Today
No matter how hard you try to keep the bugs out, they still find new and creative ways to get indoors. When they do get inside, however, you probably want to get rid of them as quickly as possible. Fortunately, we offer our customers available same-day service when you call before noon to give you the fastest relief around!
Image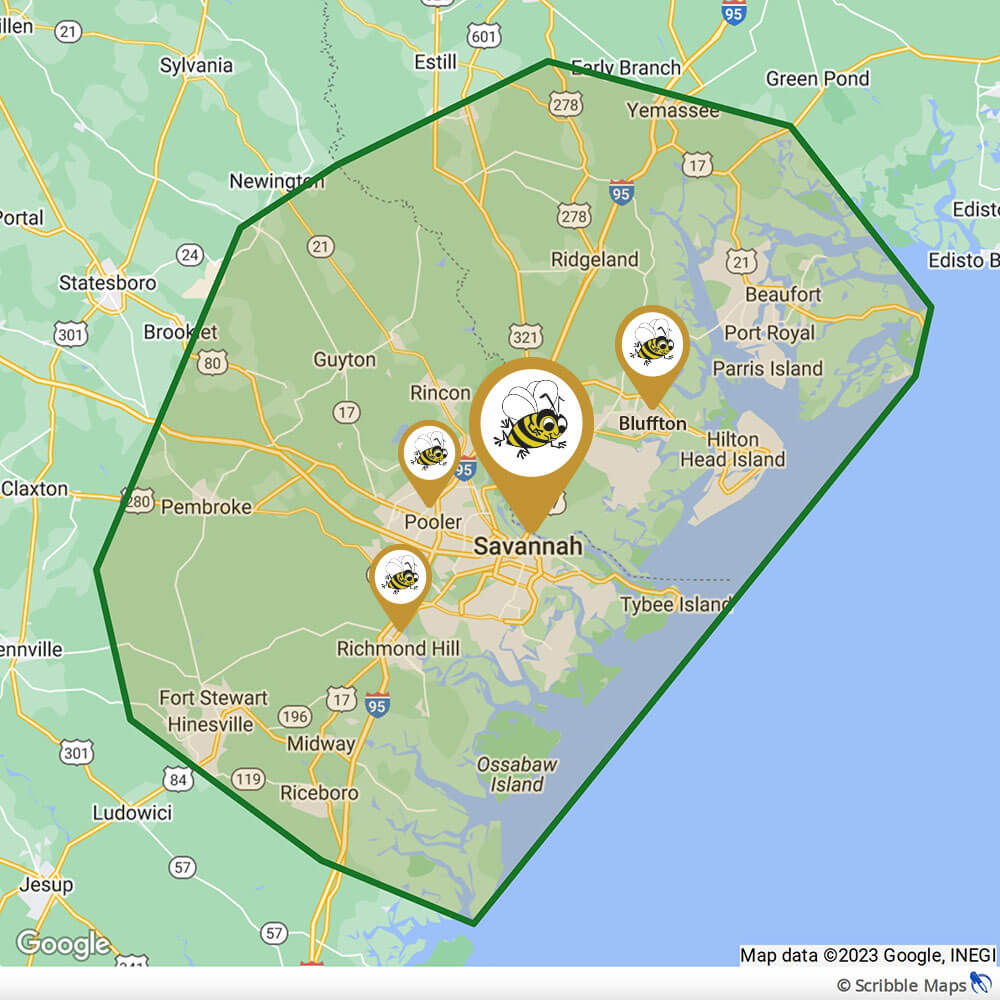 Organic and Family-Friendly Treatments
The goal of a professional pest control plan is to give your family back a safe, relaxing, and comfortable home. So why choose a company that uses unsafe products? Here at Bee Green Pest Solutions, we pride ourselves on our use of organic, family-friendly products in and around your home! Your safety and peace of mind are our top priorities, and when you choose to work with us, you can expect:
A FREE home inspection

to assess your pest control and prevention needs.

Interior and exterior treatments

that allow us to deal with a wide variety of household and yard bugs. 

Exclusion services

that prevent new infestations from occurring.

Bait traps and spray applications

that work together to ensure maximum results.

Cobweb and wasp nest removal

is 

included with every pest control plan. 

Available for one-time or recurring visits

.

Contract-free service

to preserve your flexibility. 

And more!
Termite Control in Richmond Hill, GA
If we told you about a common pest that causes more than $5 billion worth of damage each year and literally eats your home, you'd probably want to keep it out of your home, right? Well, termites tick both of those boxes, making it essential to keep them away from your house all year. Our termite control in Richmond Hill is designed to do exactly that while also resolving even severe infestations quickly! You can count on us to deliver the results that you need to keep your home safe, so sign up today to receive:
An exhaustive in-home inspection

from an experienced, local termite exterminator.

Custom-built termite control plans

that we design to address your unique needs and concerns.

Separate or combined liquid, spray, and bait treatments

, depending on the specifics of your home's infestation.

High-quality termite control products

like Termidor's Advance Bait Stations.

Contract-free services.

And much more!
Mosquito Control In Richmond Hill, GA
When you think about mosquitoes, your mind probably goes to their itchy bites, high-pitched buzzing, and ability to ruin even the nicest day outside. What you may not think about quite as much are mosquito-borne diseases, such as: 
Malaria

Zika

Yellow Fever

Dengue Fever

West Nile Virus

Eastern Equine Encephalitis

Chikungunya Virus

And others.
Keeping your loved ones safe from a wide variety of illnesses is just one benefit of our mosquito control in Richmond Hill. Our family-friendly mist treatments will keep your outdoor spaces comfortable and safe, allowing you to get the most out of your yard all spring and summer long! So if you're tired of mosquitoes taking over your yard, let us get rid of them today.
You Can Count On Us, No Matter What! 
When choosing the right pest control company for you, deciding which one you can trust is the most important thing to consider. We strive to earn your trust and confidence every time we come out to your home and back up our service with a full satisfaction guarantee! There's no need to gamble when it comes to getting pest control for your home. Instead, choose the team that you can depend on. 
Areas We Service In & Around Richmond Hill
Midway
Georgetown
Fort McAllister
Keller
And more!